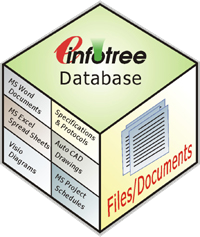 Examples of Files/Documents that are subject to 21 CFR Part 11 are:
Laboratory raw data files from instruments
PLC/SCADA history or configuration files
AutoCAD drawings storing equipment/system specifications
MS Word files storing SOPs, specifications, or validation documents
Selected 21 CFR Part 11 Issues for MS Access Applications
Security:
Files are stored on local hard drives or network servers, and maybe easily accessible to unauthorized individuals. Files may be modified, copied or deleted by unauthorized personnel with no record of these events.
Lack of Audit Trail:
There is no audit trail of changes made to the file, even when made by authorized personnel.
Lack of Version Control :
There is no version control of such files. Any changes made to the file obscures the previous version of the file.
Lack of Electronic Signatures :
There is no provision for electronic signatures.
Data is stored in a single flat file which can be subject to accidental erasure or corruption.
eInfotree EDMS Solution
File Vault :
Store your files in a SQL or Oracle database vault.
Check-In/Check-Out :
Files must be checked out in order to make changes to the file, and then checked-back in after changes are complete.
Version Control :
Full version control is provided, with all versions of a file stored in the eInfotree File Vault.
Audit Trail :
All events are logged to the audit trail database.
Configurable Electronic Signatures :
File events can be configured to require an electronic signature.
Security :
Access to files can be restricted to authorized personnel. Unlimited number of security levels can be established and applied.
Files can be accessed globally using a web-based browser interface.
Use of a more robust and reliable database platform
Password Management
Password Aging