With increasing regulatory scrutiny and requirements to comply with national and international regulations, more and more companies are moving to replace manual and paper-based processes with automated systems. Due to their experience and background, CIMCON Software consultants are well equipped to qualify your systems of varying levels of complexity and help you stay compliant. CS optimizes the time and cost of validation by applying a risk-based approach to each system. CS can also provide a wide range of automated tools as part of the consulting engagement to provide you with sustainable compliance.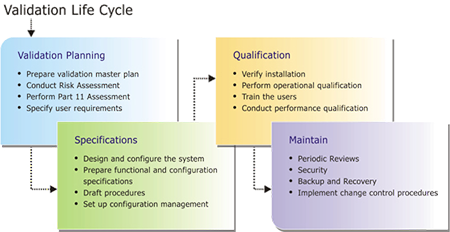 CS is a recognized leader in providing compliance solutions to the FDA-regulated industry with a global client base that spans North America, Europe and Asia. CS consultants combine regulatory knowledge with technical expertise to provide solutions to issues instead of simply highlighting them. CS follows the FDA-recommended GAMP methodology for all validation services. CS's validation methodologies have been developed after years of real-world field experience to ensure successful project outcomes. We strive to deliver value as an added ingredient in all our deliverables with a view to improving operations and productivity and simplifying processes with compliance as a by-product.
CS offers a wide range of services that include validation planning, risk assessments, Part 11 assessments and remediation plans, preparation of validation documents and SOPs, protocol execution, deviation resolution and training. CS regularly contributes to industry conferences, journals, tradeshows and events and is in tune with current FDA thinking and future direction.
Representative Projects
CS follows the FDA-recommended GAMP methodology for all validation services. CS's independent consulting services group has extensive experience in providing Validation and 21 CFR Part 11 Compliance services following GAMP 5 methodology that includes the following:
Planning
Master Validation Plan(MVP)
Risk Assessment
Requirements
User Requirements Specification (URS)
Design
Software Design Specification (SDS)
Hardware Design Specification (HDS)
Configuration
Hardware Configuration Specification (HCS)
Application Configuration Specification (ACS)
Specifications
Functional Specifications (FS)
Standard Operating Procedures (SOPs)
Testing
Installation Qualification (IQ)
Operational Qualification (OQ)
Performance Qualification (PQ)
Reporting
21 CFR Part 11 Services
Strategy and Planning
System Inventory
Gap Analysis
Remediation
Technical Controls
Procedural Controls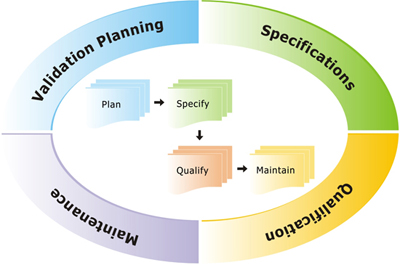 Computer Systems Validation Experience – Representative Systems
Enterprise Resource Planning (ERP) Systems
Laboratory Information Management System (LIMS)
Document Management Systems (DMS)
Adverse Event Systems
Network Infrastructure Qualification
Laboratory Systems
Spreadsheet Validation
Plant Floor Systems
Equipment/Systems Validation
Label Management Systems
Manufacturing Execution Systems (MES)
Clinical Trial Management Systems
Source Code Reviews
Change Management Systems
Batch/Process Data Management System
Database Querying and Information Retrieval in a Controlled, Part 11 Environment
Computerized Maintenance Management Systems
Engineering Drawing Management System
Environmental Monitoring and Trending
Training Systems